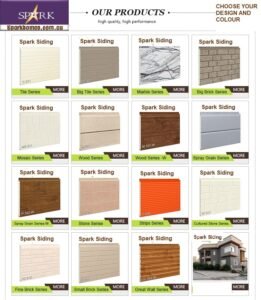 ALUMINUM CLADDING INSULATED
With our aluminum cladding, you will never have to paint your house again. Our PU insulated and fire-resistance embossed aluminum cladding comes with 16mm PU backing: this unique core is the best material for heat preservation and heat insulation.
Some of the advantages of our aluminum cladding insulated include:
Water-proof and damp-proof: Comprised from an advanced aluminum-coated zinc board on the outside, along with polyurethane foam on the interior, our superior aluminum cladding offers the highest resistance to the damaging effects of moisture and water. This composition of materials ensures that no cracks are formed between the cladding to allow for water intrusion, delivering increased protection to your home.

Fire resistance: Thanks to the materials used during their production our aluminum cladding not only offers advanced waterproofing but is also incredibly fire-resistance, keeping you covered no matter the weather event.

Sound-insulating: Thanks to its dense polyurethane core, our aluminum cladding offers exceptional sound-insulation, making once-obtrusive traffic sound a thing of the past and making your house feel like a home.

Earthquake resistant, anti-cracking: The panel is robust and high impact-bearing, high anti-wind pressure, good earthquake resistance, and anti-cracking performances.         

At SPARK Homes it is our ambition to deliver personalized home improvement and enhancement services of the highest quality and standard. To find out more about how you can benefit from our cutting-edge aluminum cladding domestic, commercial, and industrial customers can get in touch with us by calling (02) 8807 4717].