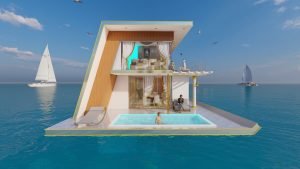 Spark SEAHORSE on waters for Luxury Residential Boat House
If you don't want a fixated place and would want to have the best of, our seahorse collection offers you spark seahorse on waters that you can buy not just for vacation or holiday purposes but it offers you residential facilities if you would like to live out in the waters. Buying Spark seahorse on water for residential and party purposes can allow you to have the best of both worlds. From the calming sea vibe to enjoying with your friends and family, spark seahorse on water can allow you to have the best part experience at any time of the day. Its purposely built to suit the sea environment, keeping you away from the worries of it being a risky business. Its careful precision, use of high quality material and its sturdy built provides you with a safe place in the middle of the sea as well as you can have the complete control of it as its made by your choice and personalized elements. Without compromising on elements of comfort and safety, spark seahorse on water provides you with an over-all home environment because it is completely customizable according your aesthetic as well as need. It isn't just the best to be a party area but is as equipped as a home. It can be used for all types of audience who wants to do things differently. Its unique and one of its kind experience that spark seahorse holds and promises you an experience for you to remember. Be safe and secure in spark seahorse on water as its invented for your best interest and is available for you according to your need.
Information will be available soon.