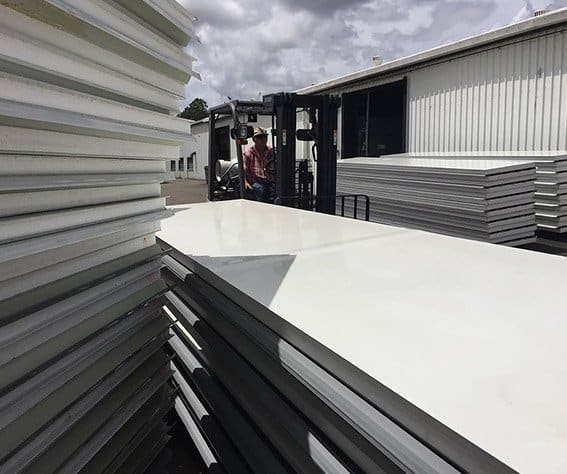 EPS Panels for Walls and Roof:
Our EPS supplied panels provide more than 3x the insulation properties than brick veneer.
Our Products are Cost-effective & Energy Efficient
We use MSIP – metal sleeve structural insulated panels for constructing frameless buildings. The metal sleeves are self load bearing and fit into each other tongue-and-groove style to create an airtight structure. The inside of these panel sleeves are filled with an insulating core which works as a web and strengthens the overall rigidity.
Not only are our construction costs competitive with traditional wooden-frame, steel-frame, concrete-block, or other masonry construction, but the high insulation value, durability and low maintenance provides exceptional value for money over the lifespan of the product- from saved heating costs.
EPS Panels Sydney
With years of industry experience the team at SPARK Homes take pride in the innovative and modern products they supply and install throughout Australia. continuing will continue this commitment to our customers and can happily deliver superior EPS panels to customers in Sydney, Melbourne, Brisbane and beyond. Expanded Polystyrene (EPS) panels offer optimal insulation to homes throughout Melbourne, Brisbane, and other locations across the country as well.
With the expanded polystyrene sandwiched between external Colorbond steel EPS panels are made to last and offer increased insulation, ensuring that homeowners stay warm in the winter and cool in the summer. Cut down on your heating and cooling costs today by speak to the team at SPARK Homes. EPS panels are perfect for fencing, feature walls, extensions, cubby houses, and replacing weatherboard panels.
Fire Rated Panels
At SPARK Homes we strive to make our customer's homes safer for their families and guests. Made from non-combustible materials our fire-rated panels give families peace of mind and confidence in their properties. With their ability to resist catching fire our panelling greatly reduces the chance of fire in the event of an electrical fault or environmental trigger.
Give your home the best protection on the market by trusting the home improvement and installation professionals at SPARK Homes. For a free quote regarding our EPS or fire-rated panels call us today on (02) 8807 4717.
Start Saving Money on Heating and Cooling Today
Studies prove that up to 75% of a traditional building's thermal energy is lost through framing members (heat bridges). Our frameless construction does not provide a conductive path for thermal energy, which results in substantially higher overall thermal insulation values than other forms of construction.
In fact, our panels deliver more than twice the practical thermal insulation than the traditional building construction, thus drastically reducing your heating & cooling costs.
Even in the most extreme climates – hot, cold, windy, or wet, our EPS panel's insulation core requires no additional insulating materials or vapour barriers
We reduce HVAC costs by 10-40% and support LEED Green certification.
We virtually eliminate maintenance costs!Our professionally designed EPS panel and structurally sound steel fabrication makes our buildings virtually maintenance-free
Waterproof!The core is tightly bound and water impermeable inside the wall, roof and floor assemblies; ideal for flood prone regions and coastal homes where moisture is a problem.

The average water absorption rate by volume is less than 0.7%, meaning the panels are essentially "waterproof". Water penetration through the 4" thick panel is zero..

Mould and mildew resistant!Particularly important in humid and flood-prone regions, our panels create an airtight and water impermeable bond that virtually eliminates the mould and mildew that can destroy a home or business.

Our construction may also reduce insurance costs and sick days associated with mould growth

Durable!Even when left bare (unfinished), the standard surfaces resist acids, bases, moisture and all other sources of corrosion.
Want Lower Building Costs?
Our pre-designed buildings can be assembled in a matter of days, (not months) slashing labour costs, and are built with cost-effective materials.
Unlike traditional construction, our patented building is erected without wood studs, heavy metal frames and/or concrete blocks. They are put together by small, well-trained crews in far less time than other forms of construction.
Our lightweight panels make it easy for crews to move it into place. At just three pounds per square foot (14kg/sqm) and requiring no heavy metal or wooden frame, an entire two-storey building can be shipped on a single truck.
The lightweight and high-strength feature of the panels also makes it easier than traditional materials to transport over highways and to remote areas.
For very remote sites, helicopter delivery of entire buildings is most practical.